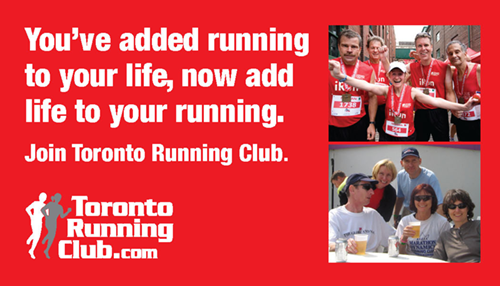 …the Toronto Running Club (TRC)
Welcome to the Toronto Running Club, the mid-Toronto group that runs, races, drinks and dines!
We encourage you to run with us as we all have found that it's much easier running with a group to get runs in after a long day at work or first thing on a Saturday. It's much easier to run with a group when it's rainy, snowy or hot, both for camaraderie and for safety.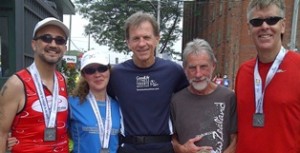 We run in the Yonge & Lawrence, Yonge & Eglinton, Yonge & St. Clair corridors, and from the Allen in the west to Leslie St. in the east.  Our summer group runs hit all the parks so we have lots of greenery to enjoy. Our winter routes keep us on side streets as much as possible. Come run with us!
TRC is a social running club that meet
s TWICE a week… every Wednesday evening of the year at 6:30 p.m., and every Saturday morning at 8:45 a.m., both meeting on the second floor of the North Toronto Memorial Community Centre, 200 Eglinton Avenue West, Toronto, Canada (map).
We have routes of 7k, 10k and 13k where the pacing is generally low-key and non-competitive – the entire group starts together at a pace that allows for conversation.  Average weekly attendance is 20-30 runners so there's always someone to run with.
As to the social side of the club, we have weekly Wednesday night pub gatherings, 3-4 socials per year and a few races where we go as a group to promote the club.  We're a friendly bunch - please come out and join us!
Club Executive
The club is managed by a volunteer executive and meets bi-monthly to plan events, settle finances, and debate issues. All club members are welcome to attend meetings, so let any one of us know if you are interested in attending or have ideas. If you want to contact our club executive, please e-mail Michael or phone him at 416-729-7867.
History
The club was started in 1995 by Michael Brennan, then co-owner of Marathon Dynamics Inc. (MDI), a company formed to provide running clinics and personal coaching for runners of all levels. The club was created because participants in the first marathon clinic conducted by MDI in January 1995 wanted to keep running and socializing together. Word got out and the club grew.
Social
The social aspects are just as important as the running aspects of the club, so social activities are planned through the year, including pub night every week after the run (and showers) and a Christmas party at the end of November. Other events may include a winter hot-chocolate run, summer lemonade run, game night or BBQ.  Some like to travel away somewhere exotic for a race (like Oakville or Hamilton).  And another fun social activity, we volunteer at a Waterfront Marathon water station in October and the occasional other race.